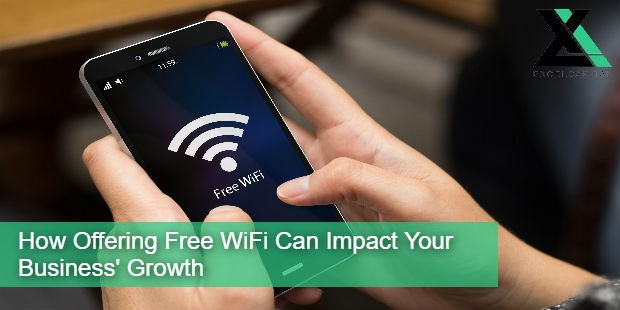 These days, not a day goes by where most of us are not plugged into the Internet either on a mobile phone, tablet, laptop, or desktop computer at some point. Being able to constantly browse the web, post on social media apps, or look up information whenever we choose has become a normal part of life. As a business owner, you should be following these trends and taking advantage. Sure, many people still believe that we all need to put down our phones, disconnect, and go back to the normal ways of communicating, however, allowing you customers to have access to the Internet could mean big profits for your business in the long run. Here are a few ways that offering free WiFi at your business location can impact its overall growth!
You Will Attract More Customers & Be More Competitive:
Many people choose not to go to certain businesses alone, especially coffee shops, restaurants, and bars. These types of establishments are generally visited by couples or groups. Going to these places individually, for some, proves to be awkward or unexciting. Although, this is an entire social issue in itself, as a business owner you are able to take advantage of this a little. A lot of customers will be happier to visit your restaurant, bar, or coffee shop alone if they are able to plug into the net in some way. This way, they can connect with their friends, post on social media apps, do online research, or even get their work done at your establishment while enjoying your products or services. Your business will also have a competitive edge in comparison to to similar establishments which may not offer free WiFi.
Your Marketing Will Improve:
Offering free WiFi at your business can help to greatly improve your marketing campaigns. Customers will be able to sign in to certain apps and check-in at or tag your location making your business visible to their social media friends, followers, and connections – sort of like a subliminal referral. Additionally, business owners who have control of the network settings can create a special landing page customers will see when accessing the WiFi. This page could even be your business' website. You will then be able to track site visits, offer ads and specials, and compile customer data.
Customers Will Spend More Money:
Lastly, one of the greatest benefits of offering free WiFi at your business is an increase in revenue. Studies show that customers who have access to free WiFi will spend more time at your establishment, in turn, causing them to spend more money. If you run a fast food restaurant or coffee shop, customers may stay longer and decide to purchase an additional drink or dessert while they continue to browse the web or complete their work. Similarly, customers at your toy store or record store can browse your site for new releases and specials. Some business owners even like to offer exclusive coupons that can only be accessed when customers check-in at the location via WiFi.
While we all should take a break from technology every now and then to enjoy real life, there are, no doubt, many benefits to being plugged in all the time. As a business owner you should be taking advantage of this technological age we live in! The results may surprise you.
Latest posts by Excel Capital (see all)