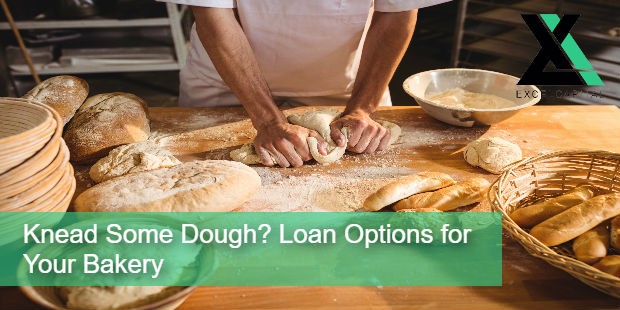 Spring is officially here which means wedding season is upon us. This means a rise in demand as every soon-to-be newlywed couple set dates for bridal showers, rehearsal dinners, and the big show—wedding receptions. You may find that yourself struggling to keep up with the rising number of orders but don't have the working capital needed to improve your situation. Traditional bank loans involve a lengthy application and approval process, and many small business owners don't qualify due to credit score or other factors. Fortunately, there are other options available. Here are some alternative lending options and how they can help your business.
Equipment Financing
If you're in need of big ticket items like an oven, refrigerator, dough proofer, commercial stand mixer, or display cases, equipment financing may be your best option. Leasing allows you the flexibility of not being tied to a piece of equipment long after it's needed, there is typically little to no down payment needed, and the expense is tax deductible. It also leaves any lines of credit you may have available for other expenses. While considering this option, think about whether it is something you want to own long term.
Merchant Cash Advance
The primary purpose of a merchant cash advance is to service the financial needs of small to medium sized business owners. This type of funding doesn't have a minimum credit score requirement and there are no fixed payments. Instead, the amount of your payments fluctuates with your credit and debit sales. This eliminates the worry that comes when revenue dips. Merchant Cash Advance is perfect for hiring extra hands to help meet demand, purchasing inventory, buying equipment, or making payroll.
Business Line of Credit
A Business Line of Credit, also known as a "LOC" is a type of loan that provides business owners with access to working capital needed to fix cash flow issues and other fulfill other short-term business needs. There are two main types of Business Lines of Credit:
Secured Business Line of Credit:
A Secured Business Line of Credit requires business owners to use assets as collateral for the loan. Typically, this type of financing uses assets like inventory and accounts receivables as collateral instead of property.
Unsecured Business Line of Credit:
Since Unsecured Business Lines of Credit don't require collateral, it tends to be a more popular options for business owners. Because of the risk lenders take providing capital without collateral as a safety net, your credit score is a big factor in whether your business qualifies. Another trade-off is they tend to be smaller with higher interest rates.
APPLY NOW or visit our Products page for information other alternative lending options Excel Capital Management has to offer!
Latest posts by Excel Capital (see all)