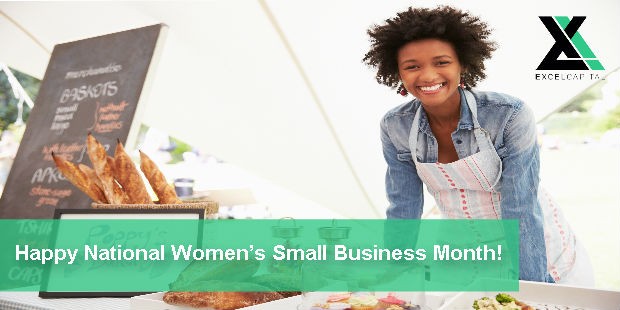 October marks National Women's Small Business Month where we celebrate the growth and accomplishments of women entrepreneurs. Women play a big role in creating jobs and helping grow the economy. According to  The State of Women-Owned Business Report commissioned by American Express OPEN,  the number of women-owned businesses increased by 68% between the years 1997 and 2014 bringing the number up to approximately 9.1 million. We also see that 32% of these businesses are owned by women of color. This is awesome news! After being discriminated against and underrepresented, we are seeing more and more enterprising women making moves in the business world.
Excel Capital Management salutes you, women business owners, for your entrepreneurship and being a driving force in this nation's economy! With the number of women-owned businesses increasing every day, funding opportunities to keep those businesses running and growing are changing and expanding. Women entrepreneurs are no longer limited to traditional resources and may find better choices through alternative financing to fit their immediate and long-term needs. We offer a variety of financing solutions for small businesses.The following are some of the alternative financing solutions available to women owned businesses:
ACH Advance:
A form of a merchant cash advance that is repaid on a daily basis by direct ACH debits rather than a merchant account. These are still a purchase of receivables and the amount debited via ACH are determined by the amount of credit card processing sales that are batched out the previous day.
Business Lines of Credit:
A rotating loan that gives business owners access to a fixed amount of money, which they can use day-to-day according to their need for cash. Interest is only paid on the amount of the advance actually used.
Asset Based Loans:
A business loan secured by collateral.
Term Loans:
A loan that is backed by a bank for an exact amount that has a specified repayment timetable and interest rate that are adjusted accordingly. Terms mature between one and 10 years.

Excel Capital Management is here for all your funding needs! Check out Solutions page for more information and: 

Latest posts by Excel Capital (see all)