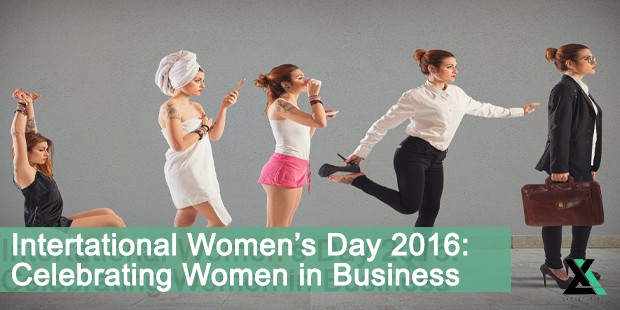 It's March 8th again – Happy International Women's Day! Originally, called International Working Women's Day and first observed in 1909, it is a day to observe the social, economic, and political achievements of women. This year's IWD theme is "Planet 50-50 by 2030: Step It Up for Gender Equality"  so we will take a look at how far women have come in terms of small businesses and the great strides being made to have them be equal to their male counterparts.  
Women-owned small businesses are thriving more than ever! According to the Institute of Women's Policy Research, close to 29% of American business are owned by women (showing a 3% increase since 1997), and women-owned firms has shown a 68% increase in the last 9 years. That's more than 8 million of U.S. businesses being owned by women, generating more than $1 trillion in revenue, and employing over 7 million people. One in three of these businesses is run by a minority women. While these numbers aren't astronomical, they do show considerable growth and progress considering the plight women have faced since the beginning of time, let alone in business. That's not all. Women business owners also have proven to be wealthier than employees. If that doesn't inspire young women to want to start a business, we don't know what will. Forget the days of wanting to be in business just like men, women are finally starting to see competitive wages as well with household incomes reaching around $140,000 per year.
One reason for this increased growth is the innovation in technology, marketing and networking – in particular, social media. Statistics show that women are more than likely to use social media to market their businesses and convert followers to customers – 76% are women are social media users in general, compared to 72% being men. As we all know, we are in the age of technology and social media marketing is bigger than ever when it comes to branding and advertising, and given the low cost in comparison to traditional advertising, this is a great advantage for all, let alone women. Aside from marketing, access to capital is easier than ever. Gone are the days of applying for traditional bank loans. Alternative financing solutions such as Merchant Cash Advances, ACH Funding, Receivable Financing and Startup Business Loans are making running businesses easier for all business owners, women included. Finally, with many mothers getting back to work or even starting their own ventures from home, having children and running a household no longer interrupts the careers of many women.
We have a long way to go in terms of gender equality (and equality in general)  in business, but we have been making great strides. If we keep going at this rate, hopefully we will see more women owning publicly traded companies and watching their small business grow into multi-million dollar corporations. Let's aim to see more women like  Sherly Sandberg (COO of Facebook), Indra Nooyi (CEO of PepsiCo.), Virginia Rometty (CEO of IBM) and many more!
Let's take a look at a section of Debbie Dey's past blog for Excel Capital Management (10 Reasons to Be Glad You're a Woman Entrepreneur) where she highlights the key areas that women excel in:
Key demographic.

As part of a growing market niche, my company will receive targeted incentives, discounts and offers in an effort to capture my business. Marketing 101 teaches students to focus advertising dollars on growing segments of a particular demographic to achieve maximum return on investment. I love all the extra attention, and it's a great opportunity to test out my negotiation skills.

Someone to ask.

At the risk of being a little stereotypical myself, I always laugh when I hear jokes about men never asking for directions – because it's true. While I understand there are tools and equipment out there to get you where you need to go, I'm happy that I don't have to take this entrepreneurial journey alone anymore. With the growing numbers of women in business, my ability to ask for advice, and a willingness of many who have gone before me to share their experiences, the road to success will be a lot smoother.

Excellent multi-taskers.

While the term may be passé, the ability to juggle many things at once is not. Let's admit it, women often overextend themselves because they can. While I would like to focus my efforts on just one thing occasionally, I really am proud that I'm capable of managing multiple tasks simultaneously. Besides, I never get bored.

Great communicators.

Being a woman entrepreneur opens up many opportunities where my voice can finally be heard. Remember, I'm part of a growing demographic, so I can talk or write all day and everyone will listen.

Passionate.

I've often heard people say that women are too emotional to be successful business owners. What? The reason I started my business in the first place was because I was passionate about it. I'm excited to belong to a group that cares deeply about making a difference in the world, even if it means shedding a tear every once in awhile.

Embrace the gray area.

I know there are women business owners that do everything "by the book" and follow a straight path toward reaching their goals. The difference between men and women, though, is the gray area. Most of the men I've worked with in leadership positions like black and white answers. In other words, they want a yes or a no. They don't want to hear the details or an explanation – the gray area. Luckily, I know that some of the best solutions are lurking in the shadows.

Innovative.

Obviously, this reason isn't only reserved for women entrepreneurs; there are many innovative men. Women have a unique perspective on life and how the world works. Creative ideas are often borne from empathy or a desire to improve the world around us. The nurturing component of a woman's DNA may often lead to new ideas.

Problem-solvers.

Think quick! Your alarm didn't go off this morning, you're running late for a meeting, your car's gas gauge is on empty and you only have $2 in your wallet. What would you do? The answer doesn't really matter. The fact that you figured out a solution has proven my point.

Perseverance.

While many women-owned businesses may struggle or even fail, I'm always impressed by the stamina and the ability of most to try again. The path to running a successful enterprise is rarely without obstacles. Learning from the challenges we encounter and continuing to push forward are powerful tools I'm proud to possess.

Alternative financing options.

With the number of women-owned businesses increasing every day, funding opportunities to keep those businesses running and growing are changing and expanding. Women entrepreneurs are no longer limited to traditional resources and may find better choices through alternative financing to fit their immediate and long-term needs. The top funding options for women with established businesses now include: Traditional bank loans, secure Small Business Administration-guaranteed loans, financing assistance from family and friends, home equity loans, trading future earnings, crowdfunding, angel investors and venture capitalists. In addition, there are more alternative financing options available such as Merchant Cash Advance, Revenue-Based Factoring and Asset-Based Lending that offer easy application and approval processes, no credit or collateral requirements and fast disbursement options.
Like the late Nancy Reagan said, "A woman is like a teabag – only in hot water do you realize how strong she is." Happy International Women's Day!
Latest posts by Excel Capital (see all)