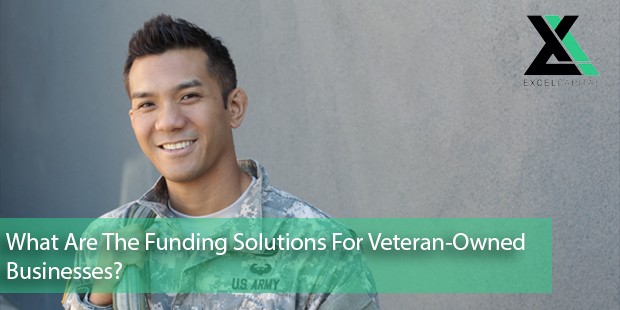 It's an amazing job our troops do for us when it comes to serving their country. The very freedoms we are provided each and every day are upheld by them, and we thank them for their service. Unfortunately, due to flaws in the financial, business, and healthcare systems, as we know, an alarming number of veterans have a very difficult time finding housing, work, medical treatment and much more when their service is complete or a break is taken. We obviously need to do better in these areas, but let's focus on funding for veteran business owners for now.  Our veterans play an important role in the U.S. economy. According to a study done by the Small Business Administration, veterans own one in ten of all U.S. businesses and employ over six million workers, generating over $1.2 trillion. This is incredible for the U.S. economy, and although the SBA had created a few loan programs, such as the Patriot Express Loan, for these veteran business owners to obtain financing, many are unfortunately no longer available.
Aside from the SBA and other traditional business loan options, there are many alternative funding solutions that may be more suitable and easier for veterans to obtain for when it comes to growing their businesses. Since many veterans may show gaps in their business and financial history due to their time in service, obtaining capital through traditional lending services may be difficult. Traditional lenders expect to see good business history, a steady stream of revenue, excellent credit, and the ability to pay back on time. Unfortunately, these gaps won't help with any of these requirements, however, there is hope! Alternative funding solutions such as the popular Merchant Cash Advance, ACH Loan may just be the answer for our veterans. Let's take a look at these and more.
Merchant Cash Advance: Short-term financing transactions that are collected through a set percentage of your Visa and MasterCard sales that are accepted at your place of business. Probably the most common term used in the industry. These do not have a set repayment schedule and are based on the volume of your businesses credit card processing sales. These are usually only guaranteed by the future sales of your business.
ACH Loan: These are a bit different than cash advances as they are considered loans and may have personal guarantees. They have a fixed repayment schedule that is paid either daily, weekly or monthly. These products are catered to industries that do not accept credit cards and need a fixed payment.
Term Loans: A loan that is backed by a bank for an exact amount that has a specified repayment timetable and  interest rate that are adjusted accordingly. Terms mature between 1 and 10 years.
Business Lines of Credit: A rotating loan that gives business owners access to a fixed amount of money, which they can use day-to-day according to their need for cash. Interest is only paid on the amount of the advance actually used.
Equipment Financing: Any type of loan or extension of credit to a business, with the purpose of helping the business acquire new equipment. Equipment financing can take the form of a lease, SBA loan, and or not restricted to Merchant Cash Advances and ACH Loans.
Along with the flexibility with all of these funding solutions, another advantage of each is that no collateral or personal guarantee is required, and personal credit is not affected by any of these products allowing veterans to get back personally and professionally on track once their service is completed or while on a break. All that alternative lenders initially require for funding to happen in a matter of days is minimal paperwork (4 months or recent bank and credit card processing statements) and a simple (usually 1-page) application. At Excel, we understand that each business and it's owner(s) is unique – especially our veterans. To learn more about the alternative funding solutions we offer, visit our Solutions page.
Latest posts by Excel Capital (see all)