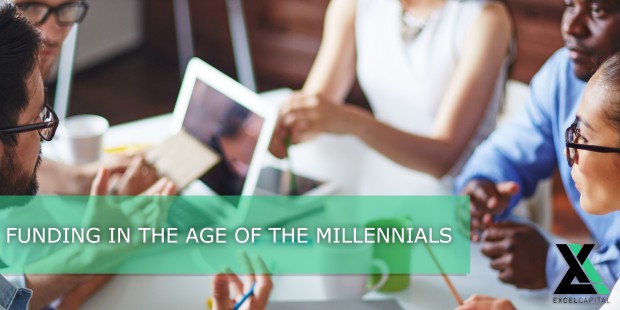 A millennial is defined as someone reaching adulthood around the year 2000. Growing up and coming into their adult years, most millennials enjoyed luxuries such as high-speed internet, cell phones, and the idea that anything could be accomplished. The notion that "dreams could come true" became realer than ever. In this day in age, our attention spans are shortening, we want information as fast as it takes to click a button, and everything is all about how quickly things can be accomplished. In many ways, we have the millennials to thank for this. It's no surprise that many of today's newly established businesses are turning into multimillion dollar companies and at a fast rate by none other than the millennials. Millennials are not afraid to strive for what fifty years ago would have been thought of as unattainable goals, and they want what they want fast! Forget the old-school ways of thinking. Forget old white-haired men sitting around roundtables in a conference room. Today, we have 25 year-old CEO's with ping-pong tables and ball pits (take a look at the Facebook headquarters). Hey, to each their own, but you can't deny that whatever these millennials are doing is working, and with the assistance of alternative lending, if they need help, the help is there.   
Remember those short attention spans we were talking about? Yeah. Who wants to wait 2-3 weeks for a loan approval at a bank? Who wants to be told that their credit score is just too low, and their goals are unreachable? Keep in mind, most of these millennials are recent college grads with no credit, low credit, low income, or they just don't know where to start. That's where the new-school way of alternative lending comes in.  Forget the straight-forward and terrifyingly simple "yes" or "no." Now, there are options such as: Unsecured Business Loans, Cash Advances, Asset-Based Loans, Lines of Credit and Receivables Financing, which all can be funded in less than a week, generally 2-3 days. And please don't get us wrong! While the talk may be all about the millennials and the influx in startups, these options are available to anyone. There's no reason why any young or older entrepreneur can't achieve success in their business – whether it just opened yesterday or has been around for 30 years.  There's still hope, and the time is now! Let's take a look at just two of the common financing options, Excel Capital Management, for example, provides:

Merchant Cash Advances – Businesses that struggle with no collateral or no credit find it difficult to qualify for traditional financing. Companies in need of quick capital to expand or improve their operations face limited options because of these roadblocks. Numerous companies report strong sales and solid cash flow statements but do not meet the rigorous standards required by traditional lenders. However, financing programs exist that provides business owners with fast capital along with minimal qualification requirements. The money comes in the form of a merchant cash advance. Unlike traditional business loans, funds from a cash advance disburse in as little as two to three business days, and merchant cash advances do not require a minimum credit score to qualify. They are simply a purchase of your future credit card sales at a discount. 
Unsecured Business Loan Products – Unfortunately, some entrepreneurs and business owners develop a less than perfect credit profile over time which disqualifies them from traditional financing channels. For the most part, bad credit does not reflect an inability to manage money. Many unforeseen circumstances arise which prevents business owners from meeting their current obligations  on time. The great recession of 2008 proves just how much an economic downturn affects a business and their credit. However, quality business loan products do exist for business owners with bad credit. Numerous alternative financing programs allow borrowers to secure financing with no collateral and bad credit. The loan requirements are flexible with no minimum credit scores and no up-front fees. Most start-ups and small business owners who apply only need to demonstrate an ability to generate cash flow.
Having a successful business and getting the funding you need is more feasible than ever!
Latest posts by Excel Capital (see all)