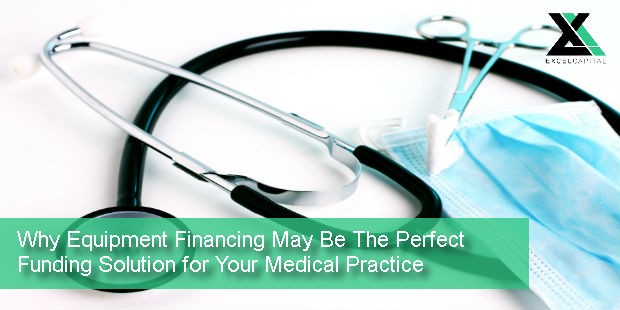 Every business needs an upgrade at some point during its life cycle, and if a business is in operation for the long term, multiple upgrades and improvements are essential. This is especially true for the medical industry. Whether you're a doctor, massage therapist, dentist, or any other medical professional, you most certainly understand that staying up-to-date with equipment, software, and the latest business practices is a key to success. But you also understand that these upgrade and improvements to necessary equipment doesn't come at a small cost. Not to worry, Equipment Financing may be the perfect solution for you!
What Is Equipment Financing?
Equipment Financing is a loan product used to help business owners purchase any type of equipment needed to run the business. This is a great solution for medical professionals as various types of equipment is always needed, and the cost can reach well into the hundreds of thousands. Loan amounts are dependent upon the type of equipment needed, as the repayment term is usually as long as the expected life of the piece of equipment and if it is used or new. This particular financing solution usually implies a fixed interest rate and fixed term, in turn allowing for fixed, non-fluctuating payments.
What are the Pros of Equipment Financing?
Approved in a few days to a few weeks

Equipment leasing is flexible and doesn't usually require a down payment (if it does, it is usually a small one) which is a plus for businesses without a big bank account

Leased equipment may be returned or purchased at the end of the term

Equipment loans can be used to update equipment and inventory or for equipment replacements

Tax Deductible

Flexible Payment Plans
What are the Cons of Equipment Financing?
Equipment Financing must only be used for business equipment. For example: medical machines, personal property for the business, vehicles for the business, office equipment, business furniture, computers, machine operator training, etc.

Higher down payments and higher long term costs

Term is usually as long as the expected life of the equipment

Businesses must sell or discard outdated equipment at the end of the term
What is Needed to Qualify?
Great to excellent credit needed

Resume may be requested to verify your character and risk

Bank and credit card statements must be provided (number of months may vary)

Profit and loss statement and balance sheets must be provided

For approval, all you need to do is complete an application; other requirements may vary depending on the lender, but are usually simple
Think an Equipment Financing solution could be a benefit to you medical practice? APPLY NOW to see what you qualify for!
Latest posts by Excel Capital (see all)