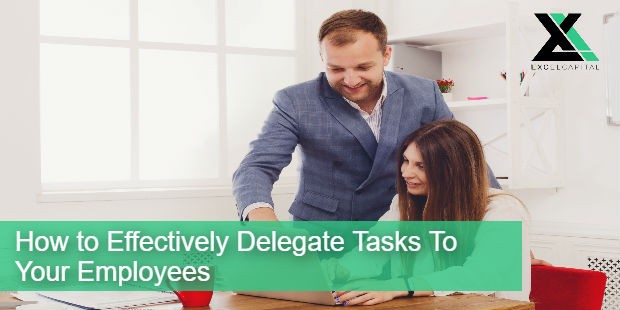 As a business owner, you have taken on a huge role. Successfully operating a small business takes hours upon hours of dedication on and off the clock. You treat your business as your baby, however, once you hire multiple employees, you will need to allow them to take some of the workload off. While this may be hard for you to do at first – after all, your business is like your baby – doing so will allow you to focus on more important tasks and also encourage employee growth. Before jumping right in, you need to prepare to delegate effectively. Here are a few tips on how to do so.
Make a List of Tasks You'd Rather Have Someone Else Do
Take a few hours to sit down and make a list of all of the important tasks you do – big or small. An easy way to do this would be to break down a typical business day. Maybe from 9 AM-10 AM you are answer customer inquiry emails. Maybe from 11 AM-12 PM you are managing social media marketing campaigns. Maybe you find yourself answering phone calls a little too often, getting sidetracked from a bigger task at hand. As the boss, you have the ability (within reason) to decide what tasks you would like another employee to take care. Taking the time to make is list of these tasks is a great starting point.
Choose Who You Delegate To Wisely
All of your employees are not the same. This is how it should be, otherwise you wouldn't have hired them in the first place. Different people have different skills. Delegating tasks to the individual or team that you know will get the job done effectively is the key to success. Is your retail business' phone right by the cash register? Let the person running the register answer the phone and screen calls while you work on more important tasks. Is your bookkeeper helping you out with payroll. Maybe you can allow them to take on the job completely with you doing a final review later. We get it. Delegating tasks that impact the overall success of your business is scary, which is why you must carefully choose the right employee for the job.
Show Your Appreciation
Allowing employees to take on tasks you would otherwise be doing yourself, takes a lot of trust on your end. They have a bit of the fate of your business' success in their hands. This being said, when they do a job well-done, show your appreciation. This can be done in the form of a bonus, recognition during a company meeting, or even just a simple "thank you." Taking the time to recognize and thank your employees for taking on a bit of your responsibility will go a long way in their eyes and stimulate their want to take on additional tasks and grow even more with your company.
Latest posts by Excel Capital (see all)