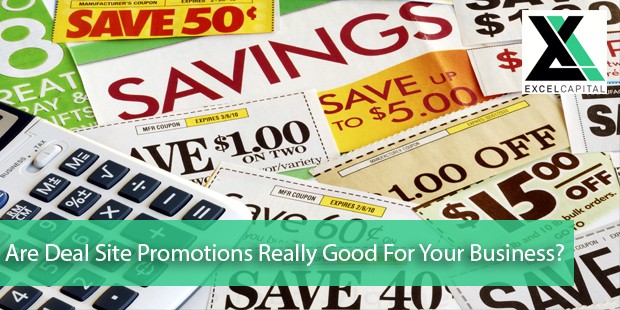 By this point, we're sure you're familiar with deal sites such as Groupon, Living Social, Yipit and more. From the consumer point of view, these sites are incredible when it comes to finding out about a new business in your area and taking advantage of great promotions on goods and services, but what's it like from the business owner's point of view? Do they benefit just as much as the consumer? What about customer retention? Once a customer takes advantage of a great deal, do they keep coming back for more? And what about the profit? Just how much do business owners really make when collaborating with these deal sites for advertising? Is there a better alternative to all of this?
Are Deal Site Promotions Hurting Your Business?
Deal web sites like Groupon, LivingSocial and Yipit are great advertising and marketing tools when it comes to acquiring new business. New customers will be eager to take advantage of discounted prices on goods and services at your business, but these types of deals do have their downfalls.
Because of the outstanding deals you offer, customer retention proves to be more difficult. If you offer a good or service at half the cost, it will be much harder to keep customers coming back to pay regular price. Let's say you are a nail salon owner who normally charges $25 for a manicure, but for a limited time offer a deal site promotion for $15. Retaining these new customers will be much harder when it prices go back to normal for them.
Deal sites tend to control how your company is advertised limiting your control on promoting your brand the way you want to. Many sites, like Groupon, will control what can go into the description of your company's good or service, along with any ad images.
Regular customers who are used to paying regular prices for your good or service may not want to take advantage of your new deals. This may cheapen your brand, and in turn lower your profit. For example, let's say you own a bike rental company normally renting bicycles to riders for $20, but Groupon offers them at 50% off. All of a sudden, your service and goods are now dirt cheap. This can be good, however, sometimes it puts a notion in people's minds that the deal is just too good to be true and the quality may be poor.
Deal sites tend to take 50% of any revenue that comes from your deals promoted through them. These sites are great advertising tools, but should really only be used when business is booming to ensure that revenue is being generated on the side. Many business do not see any profit at all from these deal sites – sometimes they even lose money.
Bill Bice, CEO of SpaBoom/CoverBoom wrote a piece for CNBC titled "Bice: Groupon Isn't a Good Deal for Businesses" where he highlighted a key factor in how Groupon works. "The classic Groupon deal requires a discount of 50%, after which the merchant and Groupon basically split the revenue (after the merchant pays the credit card fees and waits around for its check). This arrangement ultimately gives merchants about 23 cents for each dollar after discount and fees. If the merchant starts out with a 50% gross margin that means it loses 25% for each voucher redeemed." By no means are we knocking deal sites, but business owners should do extensive research and develop a smart marketing strategy when using them to ensure that they advertise their brand properly, gain new and loyal customers, and see a profit.
Is There A Better Alternative?
Deals and promotions are essential when it comes to advertising for your business, however, working capital might be the better alternative. When business owners acquire working capital through financial solutions, such as a Merchant Cash Advance or ACH Loan, they have control to use the money in any way the choose. The capital can be used for new hires, employee training, equipment purchases, and many use it for advertising purposes.
More About Merchant Cash Advances and How They Work?
The primary purpose of a Merchant Cash Advances is to service the financial needs of small to medium sized business owners. However, there are unique advantages included in the service that tailors to a specific business owners need. Here are some of those advantages:
Unlike traditional business loans, funds from a Merchant Cash Advance disburse in as little as three to four business days.

Merchant Cash Advances do not require a minimum credit score to qualify. Therefore, any company struggling with a weak credit profile qualifies for the funds they need.

Traditional business loans typically require some form of collateral to secure a loan. The collateral requirement causes many business owners to face the fact they may lose precious assets in case they cannot make their payment. However, Merchant Cash Advances do not require any collateral to qualify. Business owners who have limited assets never need to worry about losing their collateral.

Merchant Cash Advance payments come from a small percentage of credit and debit sales. Business owners will actually see their payment decrease during lean times. There is no advantage quite like this with traditional business loans.

Unlike traditional banks who have a longer waiting period, alternative funding companies that provide Merchant Cash Advances allow business owners to receive additional capital in as little as 3 months.
More About ACH Loans and How They Work?
ACH Loans are a bit different than Merchant Cash Advances as they are considered loans and may have personal guarantees.

These products have a fixed repayment schedule that is paid either daily, weekly or monthly via micropayments.

ACH Loans are paid back to alternative funding companies through Automated Clearing House (ACH) debits. This means payments are automatically debited from a business' checking account.
Forget losing 50% of your profit to a deal site – use working capital to promote your brand, acquire new customers and revenue, and put money back into your business! You, the business owner who has the best interests of your company at heart, will be in control of all of your advertising efforts, your existing loyal customers will benefit from specialized deal and promotions designed by YOU. Learn more about Merchant Cash Advances and ACH Loans  here.
Latest posts by Excel Capital (see all)