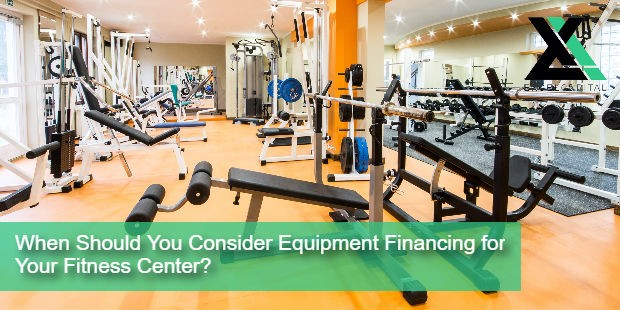 The fitness industry has always been a trendy and competitive one! People are always looking for new ways to stay healthy and in shape. Every day, new spin centers, yoga studio, and old-fashioned gyms are popping up, claiming to be the best fitness center for you! Thanks to this, competition is stronger than ever, and many fitness centers find themselves reaching points where it's hard to stay afloat and up to date with the trends. One way many fitness stay up to date is by having the latest and greatest equipment to keep customers happy, invested, and coming back for more. But what do you do when you just don't have the money for equipment purchases and repairs? Here are four times when you should consider Equipment Financing.
You Don't Have The Capital for Equipment Purchases
As mentioned above, staying relevant and competitive among other fitness centers is key! Maybe your yoga studio wants to start offering hot yoga classes, or maybe you'd like new bikes to start offering spin classes at your gym. No matter what your business' needs may be, equipment financing could help with these new purchases.
Your Business' Existing Equipment Can't Be Repaired or Upgraded
Sometimes the cost of repairs and upgrades for old or damaged equipment can cost more than the items themselves. Do you constantly see your gym's treadmills needing the same repairs? Is the air conditioning unit constantly malfunctioning? Is the swimming pool's cleaning system just too old to work properly anymore? Equipment Financing could be the answer.
You Don't Qualify for or Want a Traditional Loan
Obtaining a traditional loan through a bank is tough. Business owners often find themselves subject to a lengthy application process, strict guidelines, and often times, more declines than approvals. Learn more about that in our previous blog: "3 Reasons Why Business Loan Application Get Declines By Traditional Lenders and Alternative Financing Solutions."  Luckily, alternative financing companies like Excel Capital Management offer a stress-free application and funding process with minimal paperwork requirements. Your business account can even be funded in as little as 3 business days!
How Does Equipment Financing Work?
The loan amount is dependent upon the type of equipment needed, as the repayment term is usually as long as the expected life of the piece of equipment and if it is used or new. This particular financing solution usually implies a fixed interest rate and fixed term, in turn allowing for fixed, non-fluctuating payments. Equipment Financing is advantageous for many reasons:
What are the Pros of Equipment Financing?
Approved in a few days to a few weeks

Equipment leasing is flexible and doesn't usually require a down payment (if it does, it is usually a small one) which is a plus for businesses without a big bank account

Leased equipment may be returned or purchased at the end of the term

Equipment loans can be used to update equipment and inventory or for equipment replacements

Tax Deductible

Flexible Payment Plans
What is Needed to Qualify?
Great to excellent credit needed

Resume may be requested to verify your character and risk

Bank and credit card statements must be provided (number of months may vary)

Profit and loss statement and balance sheets must be provided

For approval, all you need to do is complete an application; other requirements may vary depending on the lender, but are usually simple
Take advantage of Equipment Financing for your fitness center today! Call 877-880-8086 to speak with one of our funding specialists or APPLY NOW!
Latest posts by Excel Capital (see all)