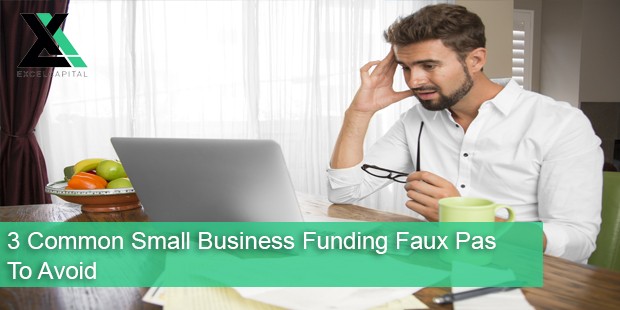 Great news – your business has been funded! Now, it's time to invest your newly acquired working capital into your business to grow, expand, and continue on the road to success, but be careful! It's very easy for business owners to get wrapped up in all of this excitement, so we've put together the three most common mistakes many make after being funded.
1. Careless and Comfortable Spending:
Acquiring any form of funding means good news for your business. You will now have the means to grow and expand whether it be from inventory purchases, opening a new location, hiring new employees, or virtually anything else. Aside from these large advancements, your new funds also mean you can cover little expenses without a care. It's quite easy to spend $10 here, $100 there, $5 here, and $50 there, but in the long run this will indeed impact your business' growth and financial strategy. Little purchases add up, and before you even realize what happened, your funds will be depleted. A simple way to avoid carelessly spending your business' funds too quickly would be to meet with your accountant to develop a money management plan and have them be in charge of your funds. Another solution would be to open an additional business account to keep an eye on your capital and to keep it separate from any other funds.
2. Financial Oversights:
Most business owners want to focus on their love and passion every day. Spending hours and days on end reviewing financial statements and spreadsheets isn't always a fun process, however, it is a necessary part of running a successful business. Having an accountant or bookkeeper to help is beneficial, but as the person spearheading your company, it is important to always be aware of your business' income, spending, profit, loss, taxes, and everything else related to its finances. It is essential to designate a specific hour of the day, day of the week, or simply week of the month to carefully review your business' finances, financial strategy, and ensure that your funds are being used properly. Waiting until the last minute to find out where you went wrong will be too late.
3. Stacking:
Stacking, simply put, is when a business takes out multiple loans or Merchant Cash Advances, one after another and on top of one another – creating a "stack." Acquiring additional working capital to continue to grow and expand your business or pay off existing debts is tempting, but doing so can make it nearly impossible to pay them all off. Many business owners who use their initial funds too quickly many times choose to apply for an additional loan or cash advance even though many lenders will refuse to fund business owners who do so. Instead of taking on more working capital than you need or can afford, call your funding specialist to develop a plan for a consolidation. Many lenders will quickly analyze your financial documents and come up with a solution to pay off your existing loan balances to allow one simple payment instead of multiple, and they can even make sure you have money left over after the consolidation to put back into your business any way you wish.
Latest posts by Excel Capital (see all)