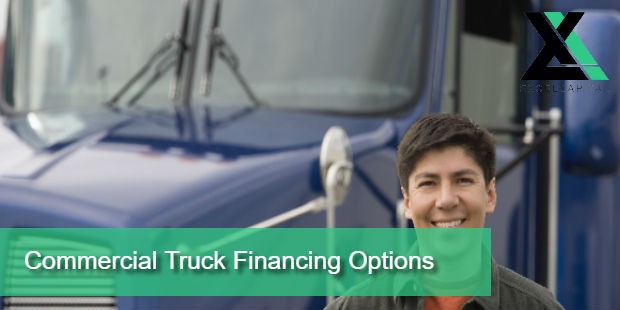 When it comes to acquiring working capital during times of need, many commercial trucking company owners find themselves in a bind. Most banks and traditional lending institutions deem trucking companies as high risk clients due to factors such as:
Fortunately, alternative financing institutions, such as Excel Capital Management, offer many commercial trucking companies a wide array of business financing options despite the risk factors mentioned above, and there are many benefits that make them competitive, if not better, than the big banks. Here are some of the pros of the commercial truck financing options available:
No personal collateral required

Minimum paperwork required

Poor credit considered

Repayment terms are flexible

Fast Processing

No personal guarantee

No application Fee

Builds your business credit

Funding can occur in as little as 2 business days
Now, let's take a look at the commercial truck financing options available to you:
Merchant Cash Advance:
Short-term financing transactions that are collected through a set percentage of your Visa and MasterCard sales that are accepted at your place of business. Probably the most common term used in the industry. These do not have a set repayment schedule and are based on the volume of your businesses credit card processing sales. These are usually only guaranteed by the future sales of your business.
Invoice Factoring:
Invoice Factoring is used to finance businesses with short-term cash flow issues – especially when your business doesn't qualify for a traditional bank loan or any other alternative solution. Your lender will factor your business' customers' invoices to match your working capital needs.
Equipment Financing:
Equipment Financing is a loan product used to help business owners purchase any type of equipment needed to run the business. The loan amount is dependent upon the type of equipment needed, as the repayment term is usually as long as the expected life of the piece of equipment and if it is used or new.
ACH Loan: These loans may need personal guarantees, and have a fixed repayment schedule that is paid either daily, weekly or monthly. These products are catered to industries that do not accept credit cards and need a fixed payment.
Term Loans:
A loan that is backed by a bank for an exact amount that has a specified repayment timetable and interest rate that are adjusted accordingly. Terms mature between 1 and 10 years.
Business Lines of Credit:
A rotating loan that gives business owners access to a fixed amount of money, which they can use day-to-day according to their need for cash. Interest is only paid on the amount of the advance actually used.
Excel Capital Management is here for all your commercial truck financing needs! Now that you've learned about the commercial truck financing options that are available, APPLY NOW to learn what you qualify for or call us at 877-880-8086. ** Also, be sure to check out one of our latest Success Stories, "How An ACH Advance Gave A Trucking Company The Capital Needed To Cover Cash Flow Issues!"**
Latest posts by Excel Capital (see all)