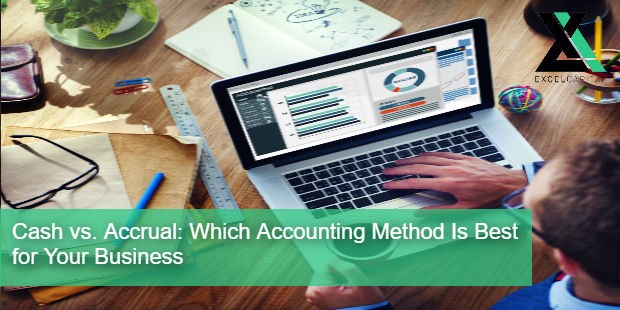 As businesses grow, their financial needs change and it's imperative that the right type of accounting is used to track income and expenses. Most small businesses utilize the cash method however, overtime they may need more in depth information about the financial standing of the company. The cash method and the accrual methods are the primary options of keeping track of a business' income and expenses.The main difference between the two methods is when transactions, including sales and purchases, are credited or debited to your accounts. Learning about both methods will help you choose the best option for your business. Here's how each works:
Cash Basis Accounting
The cash method is the simpler method of accounting used commonly by small businesses and businesses in their early stages. Income is not counted until revenue is actually received, and expenses are not counted until they are actually paid. Even though the cash method provides a more accurate picture of how much actual cash your business has, it may offer an inaccurate picture of how lucrative your business is in the long-term. For example, your books may show that you are having a really good sales month, when in reality business was slow but a lot of credit customers happened to pay their bills that month.  
Accrual Basis Accounting
Accrual accounting is a more in-depth and advanced way to handle your finances. All transactions are accounted for when the transaction occurs. In other words, expenses are recorded when a service is completed or an item is delivered and revenue is recorded at the time a sale is made, not when the invoice is paid by the customer. This method gives a more accurate financial report of what is happening in the business.  While the accrual method better shows your company's income and expense fluctuations, it may leave you unable to see how much cash is available, which can cause serious cash flow issues. For instance, your income ledger may show thousands of dollars in sales, while your bank account is empty because your customers haven't paid yet.
There are a couple factors you need to consider when choosing which accounting method works best for your business including volume of sales and time. Cash basis is the more straightforward and less time consuming method, but if your business makes more than $5 million annual, you must use the accrual method. The IRS provides information for small business owners. Keep in mind that neither method gives you a full picture of your financial standing. You can also make the decision to use a combination of both methods to fill in the gaps.
Latest posts by Excel Capital (see all)