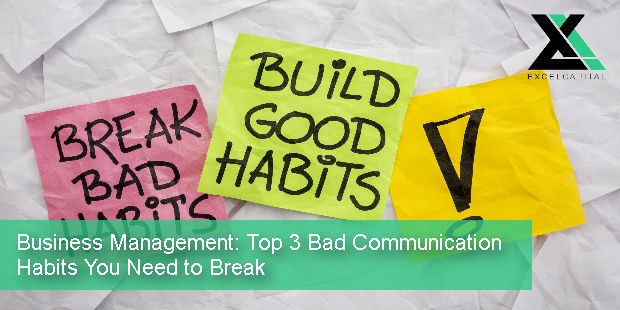 The ability to communicate is one of the most important skills one can learn. It allows us to connect with one another, convey what we want or don't want, and understand the world around us. Communication is an integral part of running a successful business.As a leader, you want to project confidence in your work and abilities. There are several habits that have become ingrained in our everyday language that undermine that confidence. Here's a list of the top three that need to go!
Minimizers
Minimizers are phrases that people use when they are afraid of sounding harsh or of the reaction their answer may get. We use phrases like "I just…" "I could be wrong, but…" "I kinda feel like…" as if they are shields for rejection and criticism. They are problematic  because they weaken and devalue your thoughts Instead of minimizing the value of your opinion, stick to your guns and stand by what you say.
The Fear of "I don't know"
When given the choice, most would rather risk being wrong than to seem incompetent. As a result, we will make something up on the spot or rush to give an answer if someone asks a question we don't know the answer to. It takes confidence to admit when you don't know something. Take a few moments and think before you speak. Yes, silence can feel awkward at first, but rushing to answer leads to cutting people off and misinformation.
Over-apologizing
Apologizing for things you shouldn't be ashamed of. You shouldn't apologize for asking questions, being nervous, going for what you want, or holding people accountable. While you may think constantly apologizing makes you look humble and agreeable, it actually makes you seem insecure and becomes annoying after a while. Only apologize when you are wrong or feel guilty.
It is important avoid language that apologizes for your position of power. Remember that people want to do business with those who project confidence. How can you expect clients, coworkers or colleagues to trust you when you constantly second-guess yourself? Breaking a habit isn't easy but eliminating these bad habits can help you on the road to becoming a more effective communicator and a better leader.
Latest posts by Excel Capital (see all)