We Know Small Business - We have a lot to share.
Business loans for women with bad credit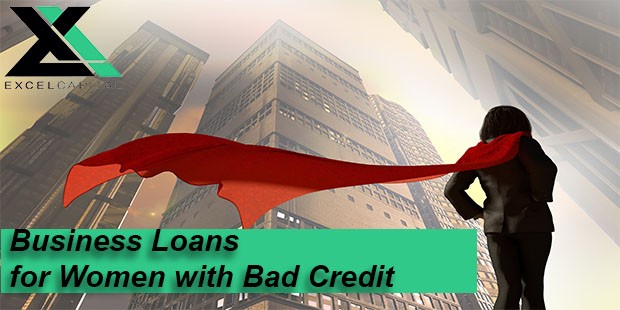 Business Loans for Women with Bad Credit 
By Nathan Abadi, President Excel Capital
Although at first glance it may seem there can be a large variety of funding in the business world. When faced with less than perfect credit it may seem challenging when looking for funding via traditional routes.
As an entrepreneur, you have had to make sacrifices along the way, let alone being a woman in a male dominant world. However, with the evolution of gender equality, there is now a belief in lending equality and there are always Fintech firms ready to provide business loans for women with bad credit. Being a woman entrepreneur in today's business environment means you are entitled only to 30% chances to gain the access to bank loan resources. This sounds logical as the stats show that women own only 31% of companies registered in the U.S.
To gain the access to capital with the least efforts when you have a flaw in your credit history, we can recommend you to apply certain marketing tricks. Finding a credit partner can also be a viable solution to qualify for the access to cash. What if someone has a strong credit score and is interested to share your business risks in return of tasting the fruits of your business?
Isn't it the case? Then there are always alternative options to turn to.
Where to turn for business loans for women with bad credit
While business loans are widely available to most business owners, a bad credit background can prove to be an obstacle when trying to access them. Bad credit score can lower your chances to obtain a loan from high authority banks.
If your FICO score had to make many sacrifices while in the startup stages of the business cycle. Many Women entrepreneurs had to max out credit cards, take a second mortgage or simply overleverage their credit profiles to get the business on the road to profitability.
If this is something you had to do don't fear you can still apply for business loans for women with bad credit. This doesn't necessarily mean you have to exuberate fees in reality most alternative lending programs are in line with credit cards and some are a lot cheaper. In fact, some Fintech products can help improve your credit score
There are a number of companies which can facilitate the process for women entrepreneurs to find the right solution tailored to your specific needs. Even if you are looking for business loans for women with bad credit, they study your special case and assist in getting a business line of credit to cover up the gaps in your revenue stream or find the best offer of lower interest rates to float your receivables. 
Alternative Lending Solutions
Alternative lenders will more likely be ready to leverage their higher risks and enhance you with a chance for business growth. In addition, they offer fast processing of applications.
Some commercial lenders focus on the strength of your business and do not emphasize your credit rating. They can be a haven to find business loans for women with bad credit.
They usually provide term loans up to $500,000, though the funding amount can grow to millions in case partner organizations are involved, as well. The good point is that in most cases, no collateral or personal guarantee is needed and it can take them only one or two days for approval. What really matters more for lending companies is your working capital. 
What products are available?
Unsecured business loans – Simply put a loan based on your gross sales and cash flow –
Business Line of Credit – A revolving amount of capital that you can use as you need it. Think of it like a credit card that deposits cash into your bank.
Split Funding – This is designed for businesses that accept credit cards. A set percentage of your credit card sales will be withheld to pay back the funding.
Term Loans – These programs are designed for profitable businesses that want terms up to 5 years.
Regardless of your industry if you are looking for business loans for women with bad credit options are available to you. To learn more please feel free to contact one of our funding advisors who can understand your business needs and help find your business funding products.
Latest posts by Excel Capital (see all)