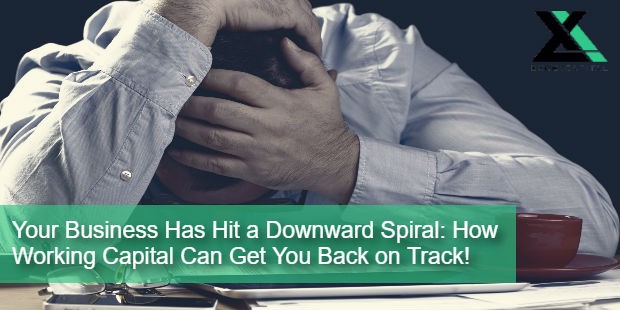 While owning and operating your own business can be one of the most rewarding experiences around, it is not an easy journey. All business owners experience tough times over the years with their patience, optimism, and work ethic being tested. Even the most experienced entrepreneurs hit roadblocks at one point or another, and if not fully prepared, it can be extremely difficult to bounce back. Nothing worth having ever came easy, and there is no success without hard work, so not to worry! Here are a few ways in which additional working capital can help to get your business back on track after hitting a downward spiral.
The first thing entrepreneurs who see their business spiraling downward and out of control should do is think, stay calm, and reevaluate. Despite the headaches and hurdle after hurdle, it is important to maintain your composure during these tough times. The overall morale and attitude of your company and its staff will depend on it. If you staff or business partners start to see you sweat, they will to. This doesn't mean you should sweep everything under the rug, it just means that you should approach each difficult situation with a positive, calm, and realistic attitude. The flip side to this is re-evaluating your business strategy and past decisions. Did a certain partnership not pan out the way you had hoped? Maybe it is time to part ways. Did you sales plummet after the busy holiday season? Maybe it's time to investigate why and develop a new marketing campaign. Did your business take a turn for the worse after a natural disaster hit and put you out of operation for a few weeks? Maybe it's time to update your disaster plan for the future. Taking time to sit back, relax, think, reflect, and develop a new strategy is key to keeping an optimistic attitude and realistic expectations for the future, as well as coming up for a plan to get you out of the rut.
Once you have identified the key things that are affecting your business in a negative way, you will be better able to understand what you need to do to get back on track. A lot of times, there is a specific need for additional working capital or additional working capital could be just the thing to fix your entrepreneurial problems. Due to the lengthy application process traditional banks require, most business owners these days are opting to reach out for additional working capital via an alternative lender when they run into business and financial troubles. Let's take a look at a few popular alternative financing options.
Merchant Cash Advance:
Short-term financing transactions that are collected through a set percentage of your visa and mastercard sales  that are accepted at your place of business. Probably the most common term used in the industry. These do not have a set repayment schedule and are based on the volume of your businesses credit card processing sales. These are usually only guaranteed by the future sales of your business.
Business Lines of Credit:
A rotating loan that gives business owners access to a fixed amount of money, which they can use day-to-day according to their need for cash. Interest is only paid on the amount of the advance actually used.
Asset Based Loans:
A business loan secured by collateral.
SBA LOANs 504 Loans:
The US Small Business Administration 504 Loan or Certified Development Company program is designed to provide financing for the purchase of fixed assets, which usually means real estate, buildings and machinery, at below market rates.
Term Loans:
A loan that is backed by a bank for an exact amount that has a specified repayment timetable and interest rate that are adjusted accordingly. Terms mature between 1 and 10 years.
The great thing about these alternative financing solutions is that all of them could provide the capital your business needs to make it through tough times – big and small. Whether you need the capital to catch up on bills, hire additional staff, train existing staff, open up a new location, spruce up your advertising and marketing campaigns, purchase new inventory, update or repair equipment, or virtually anything else pertaining to your business, you can use it!  Applying for financing through an alternative lender may be the answer to your cash flow problems. To start, alternative lenders generally only require a simple, one-page application, four months of recent business bank statements, and four months of recent credit card statements (if your business accepts credit cards) to present you with an offer in as little at 24 hours and funding in as little as 72 hours. Alternative financing is a great way to receive the working capital your business needs fast! For more information on alternative financing solutions such as the Merchant Cash Advance,Business Lines of Credit, SBA Loans, and more, click HERE!
Latest posts by Excel Capital (see all)