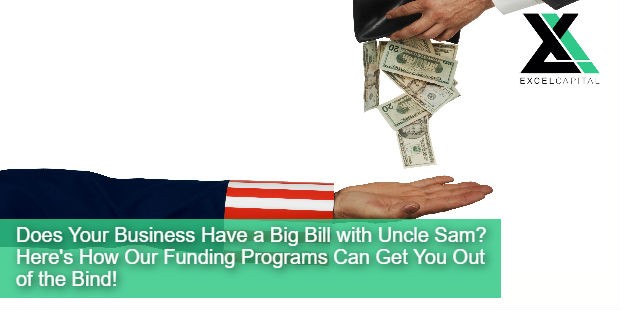 Tax season is here again, and the deadline for filing is fast approaching! It can be a difficult and tedious process, especially if you're not as organized as possible, but filing your business' taxes is crucial! Failing do so can result in hefty tax penalties and levies. Maybe your business even already has a large tax bill with Uncle Sam. Not to worry, there are options, and you should still file! Learn how custom funding programs, such as those offered by Excel Capital Management, can help you business get out of the tax bind.
To start, late filing or failing to pay taxes can cause you to accumulate penalty fees and interest on top of the initial amount owed. Take a look at this calculator for example, https://www.irscalculators.com/IRS-penalty-calculator.php. If your Limited Liability Company with 2 members hasn't filed taxes since 2015, the penalty would be approximately $4,680. Similarly, if your business already owes $100,000 and fails to file, the IRS interest rate would be approximately $3,935.98 bringing the total balance owed to $103,935.98. That is quite a hefty bill to have on top of all of your regular business expenses, and the consequences don't stop there!
Other Consequences for Not Filing Business Taxes
Liens on Your Business and Personal Assets:

Tax liens are imposed by the law on personal and business assets, such as property, as a result of failing to pay your taxes.
Levy and Garnishments  on Accounts:

 A levy allows the IRS to garnish your wages or take money from your accounts and seize personal property such as vehicles or real estate.
Negative Impact on Credit Scores:

 Depending on how much you fail to pay in taxes, the IRS can file a lien which can negatively impact your credit score by as much as 100 points.
Prevents Institutions From Extending Credit:

Failure to pay your taxes can result in financial institutions being unable to either extend or provide you with lines of credit.
At Excel, we offer a wide array of funding programs to get your business the capital it needs, and yes, this capital can be used to catch up on taxes! Why avoid filing only to face astronomical penalties and interest rates? Why not get the working capital your business needs to take care of tax payments and even net a little extra for other business improvements? Take a look at a few of the funding programs available at a third of the cost of most business owners' tax bills:
Split- Funding a.k.a. Merchant Cash Advance:
Short-term financing transactions that are collected through a set percentage of your Visa and MasterCard sales that are accepted at your place of business. Probably the most common term used in the industry. These do not have a set repayment schedule and are based on the volume of your businesses credit card processing sales. These are usually only guaranteed by the future sales of your business.
Invoice Factoring:
Invoice Factoring is used to finance businesses with short-term cash flow issues – especially when your business doesn't qualify for a traditional bank loan or any other alternative solution. Your lender will factor your business' customers' invoices to match your working capital needs.
Equipment Financing:
Equipment Financing is a loan product used to help business owners purchase any type of equipment needed to run the business. The loan amount is dependent upon the type of equipment needed, as the repayment term is usually as long as the expected life of the piece of equipment and if it is used or new.
Term Loans:
A loan that is backed by a bank for an exact amount that has a specified repayment timetable and interest rate that are adjusted accordingly. Terms mature between 1 and 10 years.
Business Lines of Credit:
A rotating loan that gives business owners access to a fixed amount of money, which they can use day-to-day according to their need for cash. Interest is only paid on the amount of the advance actually used.
Don't let a heavy tax bill owed to Uncle Sam affect your business' success! Call one of our funding specialists at 877-880-8086 or APPLY NOW to get the working capital your business needs today!
Latest posts by Excel Capital (see all)