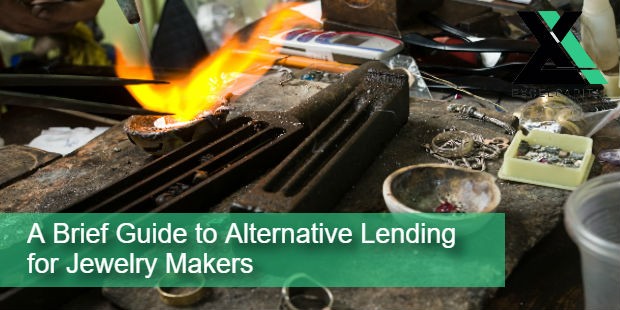 Whether you are a watchmaker or silver/gold/blacksmith who is just starting out or a jeweler or lapidarist who has been in business for years, there comes a time when extra working capital can be used. Not only does it take a significant amount of money to get started, expenses like inventory, equipment, payroll, marketing, and a website add up and become costly. Unfortunately, many first-time business owners are turned down for loans from traditional banks, even if when they have assets to use as collateral for a secured loan. The good news is that alternative lenders have stepped up to fill in the funding gap. As a  The following are a couple options that are now available to help:
Equipment Financing:
A type of loan or extension of credit to a business, with the purpose of helping the business acquire new equipment.
Equipment Financing
 extends only the capital needed to purchase a specific piece of equipment and is most commonly written as a lease.
Merchant Cash Advance:
Short-term financing transactions that are collected through a set percentage of your visa and MasterCard sales  that are accepted at your place of business. Probably the most common term used in the industry. These do not have a set repayment schedule and are based on the volume of your businesses credit card processing sales. These are usually only guaranteed by the future sales of your business.
Term Loans:
A loan that is backed by a bank for an exact amount that has a specified
repayment
timetable and
 interest rate
that are adjusted accordingly. Terms mature between 1 and 10 years.
ACH Advance:
A form of a merchant cash advance that is repaid on a daily basis by direct ACH debits rather than a merchant account. These are still a purchase of receivables and the amount debited via ach are determined by the amount of credit card processing sales  that are batched out the previous day.
ACH Loan Products:
These have a fixed repayment schedule that is paid either daily, weekly or monthly. These products are catered to industries that do not accept credit cards and need a fixed payment.
Here are a few ways you can put your working capital acquired through an alternative lender to use in your shop:
Purchase New Equipment & Tools:

pliers, magnifiers, saws, drills, diamond bits, stone setting tools, ring cutters, soldering kits, dapping tools, hydraulic jewelry presses, work benches, lamps, etc.
Inventory Purchases:

Gemstones, wire, bails, jump rings, chains, beads, precious metals,  art clay, sheet metal, brushes, etc.
Employee Training:

Train new and existing employees on new customer service rules and guidelines, send staff to expos and workshops, POS/transaction systems, etc.
For more information about what Excel Capital Management can do for you, visit our Solutions page or call 877-880-8086 to speak to one of our financial specialists.
Latest posts by Excel Capital (see all)