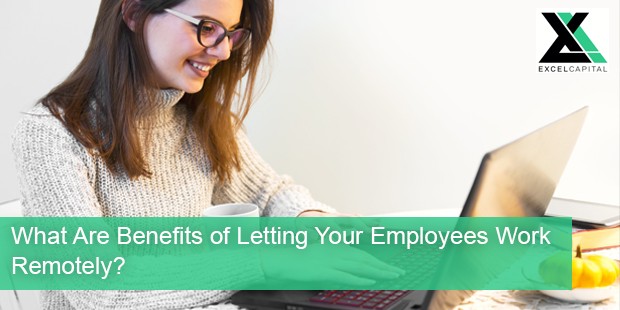 Today, many employees (millennials in particular) are enjoying the option of working remotely – typically from home. Many business owners with an old-school mentality, however, may look at this option as a way for their employees to slack off or lose focus, however, there are many benefits, and the option to work remotely has even motivated many employees to work harder and better. Let's take a look at how letting your existing employees work remotely and hiring additional remote staff can help your business and improve productivity.
To start, allowing your HR department to broaden their search and open up job positions to remote employees gives you access to a wide range of talented individuals. Depending on your business' setup, business owners can hire new talent both locally and globally. Additionally, sometimes the person you're looking for just isn't applying. Maybe you aren't gaining any prospects in your town, or a great candidate just lives a little too far away from your location. No longer does that have to stop your from hiring. Depending on their job requirements, most employees are able to work from home with the simple tools of a mobile phone, laptop, and whatever computer software your business requires. These tools along with constant communication and interaction are all that's needed.
Another benefit of allowing your employees to work remotely is increased productivity. While there is a risk of employees becoming distracted or less motivated while at home, studies have shown that most do the opposite. As long as your employees are motivated, engaged, and enjoying their job, they will want to do great work. Comfortability and flexibility are added bonuses to many employees. If an employee needs to run an errand during a regular office work day (think of doctor's appointments, children's activities, last minute emergencies), they are leaving work incomplete and will have to continue the next day. When employees work remotely, usually via mobile phone or laptop, many chose to take their work on-the-go or continue when they are back at home. Unlimited access to files and software that they need means they can continue their job until it's completed rather than putting it off until the next day. This flexibility has also shown to improve the overall happiness and satisfaction of employees, which will improve your chances of them staying with your company for many years to come.
While you may be a little leery when it comes to letting their employees work remotely or hiring additional remote staff, it's worth a try. Start off by letting one of your senior employees work from home one day per week, or maybe let your social media marketing staff leave early and take on their tasks remotely for a few hours. You could even try working from home yourself.  Gauge productivity, growth, happiness, and adjust accordingly. The results may surprise you!
Latest posts by Excel Capital (see all)