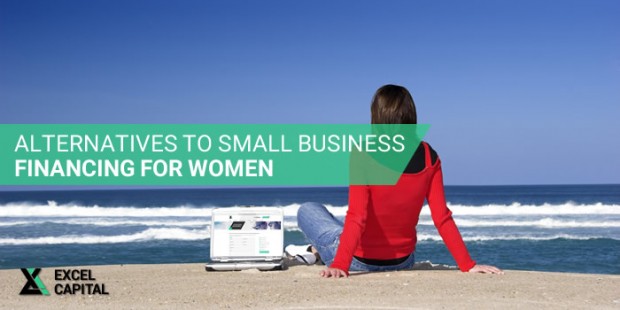 Even the title, "woman-owned business," denotes the minority status of female entrepreneurship. You'll never hear the corresponding, "man-owned business" mainly because it's more common and expected. For years, the top leadership roles in the business world have been reserved primarily for men. While the face of today's business owner is changing and more women are establishing and leading their own companies, many challenges still exist; especially in the area of business financing.
Statistical data acquired through research by the Global Initiative for Women's Entrepreneurship Research (GIWER) at Babson College has shown a system-wide bias against traditional small business funding for women. Key financing obstacles cited include low revenue, limited access to capital for expansion and lack of knowledge. In 2011, a mere 3 percent of women-owned businesses earned more than $1 million and close to half were so unfamiliar with the lending process, they didn't even seek working capital for their businesses.
Challenges
Many women executives lack confidence in their business acumen and are intimidated by their male counterparts. Many over-compensate by taking on a stronger approach to business and may even become overly aggressive. While these attributes may be applauded in a male business owner, they are often misinterpreted by lending institutions and investors as harsh. According to a 2014 Babson College report, less than 3 percent were able to secure start-up capital through private investors. In addition, venture capitalists typically invest in start-ups with similar backgrounds or partners. With "women-owned" small businesses in the United States in the minority, the odds seem to be against them.
The emotional and nurturing side of women can often affect their business decisions. Traditional lenders and investors may shy away from supporting women CEOs because they fear these attributes will be a hindrance to effectively running a business. Their concern is that women won't be able to make the difficult decisions or they'll become too emotionally involved and lose focus of their primary business goals to make money, instead of friends.
The same concern of work-life balance is a deterrent to support of women executives and owners who are also raising families. While women have been juggling the responsibilities of work and children for years, there are still those that question a woman's ability and commitment to truly achieving balance in both areas. This makes financial support a higher risk.
The fear of failure is the number one concern among women starting their own business, according to Babson College's 2012 Global Entrepreneur Monitor. While men may have the same concern, they are more likely to push through the fear and ask for what they need.
Obstacles
Women entrepreneurs still face many obstacles in securing start-up financing, working capital or growth funding. Many female-based businesses are at a disadvantage when seeking financing through banks. Non-traditional companies sell products or services online or direct to the buyer. Although they can function well without a brick and mortar facility, they have no collateral. This is a problem for most bankers.
The Women's Business Ownership Act of 1988 outlawed severe discriminatory practices such as male co-signer requirements for business funding. According to Gaebler.com, female approval rates still lag behind male approvals by up to 20 percent. Poor credit scores may be another obstacle. On average, women's scores are 20 points below men. While not terribly significant, tighter restrictions on lending after the 2008 credit crisis have made even small variations more difficult to overcome.
Low revenue and cash flow instill a cautionary review of all women-owned businesses. Underwriters look for strong debt management. With approximately two-thirds of these companies drawing less than $25,000 in revenue, according to Wells Fargo & Co., there's little to go on.
Lack of education is also cited as an obstacle to business financing. Often women have little experience in the process or documentation needed to secure an investment. While they may be passionate about their concept, they often lack a clear business plan. Without the ability to explain what they'll use the money for or how they'll pay it back, they'll likely be denied.
Alternatives
Accessing capital for their businesses can be achieved through education. The U.S. government has recognized the need for support and now offers online tools, training and one-on-one counseling assistance to help women apply for business capital. The Small Business Administration also provides a guarantee to those willing to lend money to small business owners. This reduces the risk of default and is becoming extremely popular among female owners. In fact, the SBA indicates that approximately 54 percent of all 2011 small business financial packages were awarded to organizations with a woman as majority interest.
Many female executives are familiar with the obstacles and are choosing alternative resources. Peer-to-peer financing and government assistance programs have provided capital for many new start-ups. Today, there are other financing options available through providers such as Excel Capital Management. Creative financing solutions are designed to assist small businesses that are unable to obtain capital through traditional sources. Women-owned businesses no longer need to worry about bad credit or lack of collateral from pursuing their dreams. Merchant cash advances only require a minimum annual gross revenue of $100,000. Working capital is available in a few days and payments are affordable.
Unsecured financing options available through Excel Capital offer flexibility and have no credit score requirement. Female entrepreneurs can breathe easy when selecting this method of funding. The strict guidelines and lengthy approval process required by conventional banks are no longer an issue.
For those business owners looking for lower rates and fixed payments, ACH Loan funding may be an attractive option. This financial alternative accesses future revenue to purchase resources needed to move their business forward. The only qualifications needed are average monthly bank balances over $1,000.00 and 5 or more Monthly Deposits along with over $100,000.00 in Annual gross revenue.
Another popular funding method can help women managers retrieve payment on outstanding invoices faster. By selling those invoices at a reduced rate to a finance company, working capital is available to keep the business running. As with the other alternative options, no credit scores or assets are required to qualify.
The Bottom Line
The game has changed for women-owned small business. No longer at the mercy of conservative lending practices, enterprising leaders are free to explore just how far their business can go. Without the restrictions of a traditional, outdated lending system, owners can use new capital to hire additional staff, purchase inventory, upgrade facilities, advertise, consolidate debt or expand their company. Not every business undertaking is destined for greatness. With the proper tools and support, every business has an opportunity to grow and achieve financial independence.
Today and the Future
There is no better time for innovative women to challenge themselves and reach for career advancement in the form of ownership. Resources are now available to address the educational gap between men and women, government programs offered through SBA help women overcome barriers, and alternative financing gives start-ups and growing companies a real opportunity for success. As noted in the recent census data, woman-owned businesses are growing at an exceptional rate. The economic impact is close to reaching $3 trillion which represents nearly 23 million jobs. It's apparent that these organizations are major contributors to the success of the country and deserve financial equality across all platforms. While there is more that can be done to improve product and service availability in the WOSB niche, it is encouraging that alternative funding institutions such as Excel Capital Management are providing solutions in an under-served market.
Contact Excel Capital today to find the perfect financing option for your women-owned small business, so you can grow tomorrow. Consultants are available to guide executives toward the best option to reach their business goals. Close to 90 percent of all applications are approved. Direct deposits are generally made within 72 hours and payment plans are kept affordable.
Latest posts by Excel Capital (see all)