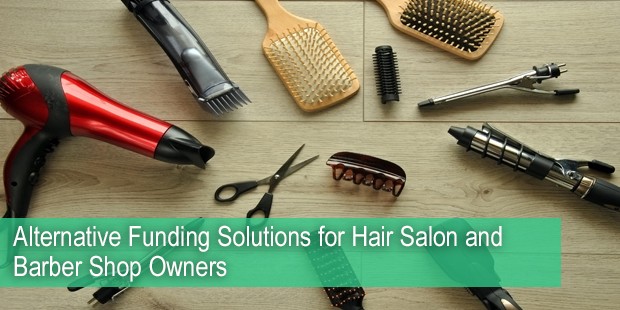 Running A hair salon or barbershop is one of the few recession-proof businesses that exist. However, there might be a time where hair salon funding might be required.
No longer does applying for some sort of funding mean that a business is struggling. In fact, many times businesses are booming, but in need of capital, upfront to increase growth and revenue. Hair salon and barber shops are no different. As a faction of the fashion industry, the hair salon and barber shop industry is a competitive, bold, and ever-growing one, and these types of business owners must stay on top of trends, techniques, marketing strategies, and much more. This is where working capital comes into play,  but who has the time to wait weeks for a traditional bank loan? Here are some alternative funding solutions to give your salon or barber shop the capital it needs fast!
A Few Hair Salon Business Funding Solutions:
Merchant Cash Advance: Short-term financing transactions that are collected through a set percentage of your Visa and MasterCard sales that are accepted at your place of business. Probably the most common term used in the industry. These do not have a set repayment schedule and are based on the volume of your businesses credit card processing sales. These are usually only guaranteed by the future sales of your business.
ACH Loan: These are a bit different than cash advances as they are considered loans and may have personal guarantees. They have a fixed repayment schedule that is paid either daily, weekly or monthly. These products are catered to industries that do not accept credit cards and need a fixed payment.
Term Loans: A loan that is backed by a bank for an exact amount that has a specified repayment timetable and interest rate that are adjusted accordingly. Terms mature between 1 and 10 years.
Business Lines of Credit: A rotating loan that gives business owners access to a fixed amount of money, which they can use day-to-day according to their need for cash. Interest is only paid on the amount of the advance actually used.

Equipment Financing: Any type of loan or extension of credit to a business, with the purpose of helping the business acquire new equipment. Equipment financing can take the form of a lease, SBA loan, and or not restricted to Merchant Cash Advances and ACH Loans.
Ways to Put Your Working Capital to Use in Your Hair Salon or Barber Shop
As a hair salon or barber shop owner, you are in one of the most creative and competitive industries around! Here are a few ways you can put your working capital acquired through an alternative lender to use!.The possibilities are endless!
New Hires: reception staff, hair stylists, barbers, nail technicians, makeup artists, shampoo assistants, accountants, cleaning staff, etc.
Purchase New Equipment & Tools: hydraulic styling and barber chairs, shampoo bowls, wax warmers, work stations, mirrors, dryer chairs, floor mats, company vehicles, etc.
Inventory Purchases: Styling products, combs, scissors, towels, capes, razors, clippers, shampoos, conditioners, barbicide, hair color, shaving cream, magazines and style books, etc.
Employee Training: Train new and existing employees on new customer service rules and guidelines, send staff to hair styling and barbering training seminars, POS/transaction systems, etc.
Alternative Lenders Provide a Quick & Easy Application Process:
Aside from the flexibility, the other great thing about all of these funding solutions is that each requires no collateral or personal guarantee, and your personal credit score is not affected. Majority of alternative lenders only require a simple one-page application,  four months of recent business bank statements, and four months of recent credit card processing statements (if your business accepts credit cards) to present business owners with an offer and funding in a matter of days.
To learn more about the alternative funding solutions Excel Capital Management offers, visit our Solutions page or APPLY NOW. Also, be sure to read our latest Success Story: "How a Merchant Cash Advance Provided This Barber Shop Owner with Working Capital to Purchase New Barbering Chairs & Styling Products! 
Latest posts by Excel Capital (see all)