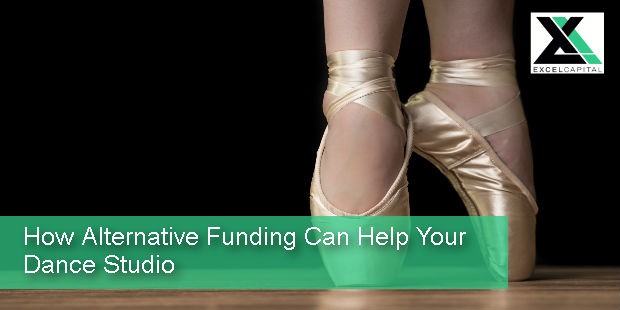 A common misconception is that working in the arts is easy. The truth is, whether you pursue a career in dance, music, theater, or art, you face a highly competitive industry and a constant daily grind to make a successful living. Despite the long hours and years of training you do it because of the passion you have for your craft. Dance studio owners can tell you that this doesn't change once you decide to open a studio and make the transition to teacher.
Another common misconception that a company only seek working capital when it's in trouble. In reality, business owners look to obtaining capital upfront in order to increase growth and profit. In some areas it seems like there is a dance studio every few blocks. Due to this oversaturation business owners must stay on top of trends, marketing strategies, etc. Instead of going through the severe weeks to a month process for a traditional bank loan, here are some alternative funding solutions to give your dance studio the funds you need to stay competitive:

Merchant Cash Advance: Short-term financing transactions that are collected through a set percentage of your Visa and MasterCard sales that are accepted at your place of business. Probably the most common term used in the industry. These do not have a set repayment schedule and are based on the volume of your businesses credit card processing sales. These are usually only guaranteed by the future sales of your business.
ACH Loan: These loans may need personal guarantees, and have a fixed repayment schedule that is paid either daily, weekly or monthly. These products are catered to industries that do not accept credit cards and need a fixed payment.
Term Loans: A loan that is backed by a bank for an exact amount that has a specified repayment timetable and interest rate that are adjusted accordingly. Terms mature between 1 and 10 years.
Business Lines of Credit: A rotating loan that gives business owners access to a fixed amount of money, which they can use day-to-day according to their need for cash. Interest is only paid on the amount of the advance actually used.


Now that you know about some of your options, here's a few ways you can use alternative funding for your business:

New Hires: In addition to hiring dance teachers who will engage and hopefully instill the love of dance you have into your students you will also need a great support staff which includes reception staff, accountant and bookkeeper, cleaning services
New Equipment and Inventory: Between growing students and expensive competitions, you will definitely need to have the funds for competition fees, costumes, tights, shoes, leotards. You can also use capital for studio improvements like mirrors, floor mats, or new floors.
Employee Development: Working capital can also be used to send you and your staff to workshops that will show them new techniques, choreography, and business tips.
Visit Excel Capital Management to learn more about these alternative funding solutions and how we can help your business.
Latest posts by Excel Capital (see all)