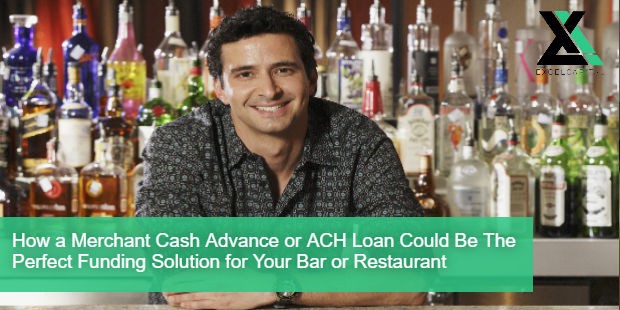 How An ACH Cash Advance Can Help Your Restaurant or Bar:
While it is a trendy and thriving industry, owning and operating a bar or restaurant isn't so simple. The business is constantly growing, changing, and will forever be one of the most competitive. These issues on top of the fact that business owners of all kinds will inevitably run into some financial hurdles overtime can be overwhelming to think about. So what do you do when your bar or restaurant is in need of working capital to fix cash flow issues? What do you do when the traditional big banks decline your business loan application? There are options. Introducing the ACH Cash Advance and ACH Loan or Unsecured Business loan.
As mentioned, all business owners will be in need of working capital at some point over their business' lifetime. Whether additional funds are needed to fix your bar or restaurant's cash flow issues during a slow period, train new wait staff, hire more bartenders, purchase inventory, or repair kitchen appliances, A quick Business loan can help.  Two popular reasons many bar and restaurant owners reach out for capital is due to the turnaround of employees and the fact that their business may be cyclical. For instance, employees in the bar and restaurant industry do not tend to stay at a job very long due to constantly looking for additional or better work opportunities. It's a fast paced industry that many work in on the side to make extra cash. The causes many issues for business owners who can't compete with other bars or restaurants that pay better. Additional capital could help you to give deserving employees a raise or promotion. Similarly, many bars and restaurant are cyclical, meaning they are open 2 to 4 days per week. Thus, generating enough revenue to pay rent for the business and cover expenses and payroll can be tough.
To acquire working capital from a traditional bank via a business loan is no easy task. BIg banks require lengthy applications, lots of paperwork, and tend to take a few weeks for processing and an approval or decline. Not to mention, due to the unsteady industry, an approval can be even more difficult to receive. (Check out our recent blog, "3 Reasons Why Business Loan Applications Get Declined By Traditional Lenders and Alternative Financing Solutions" for more on that). Luckily, alternative financing is available, and the most popular financing solutions tend to be the Merchant Cash Advance or ACH Loan. The primary purpose of a Merchant Cash Advance or ACH Bank Loan is to service the financial needs of small to medium sized business owners. Unlike traditional business loans, funds from a cash advance or ACH Bank Loan disburse in as little as three to four business days. They do not require a minimum credit score to qualify, therefore, many rising businesses or businesses that run into a rough patch over the years opt to use this financing solution. Another benefit is that Merchant Cash Advances or ACH Bank Loans do not require any collateral to qualify, so business owners who have little to no collateral (or poor credit or limited business history) to offer can rest assured that nothing will be taken from them. Finally, since ACH Cash Advances and ACH Bank Loans do not necessarily have fixed payments, business owners who run into financial troubles over time do not carry the burden of large monthly payments, balloon payments and do not accrue over time (since they are classified as a purchase of future sales at a discount).
When it comes to paying back your ACH  Cash Advance or ACH Loan, there are two common collection processes. With a Merchant Cash Advance, payments come from a set percentage of credit and debit sales. With an ACH Bank Loan (this financing product is typical for businesses that do not accept credit cards or want a set repayment schedule) the collection process is done through the Automated Clearing House (ACH) process. collection process is through the Automated Clearing House withholding method with fixed daily, weekly or monthly payments. This method allows the lender to withdraw a predetermined amount from your business bank account. Lastly, a lesser common method of collection is through a lockbox agreement. With this method, all of a business's daily credit and debit sales are deposited into a lockbox account, in which the agreed upon repayment amount is removed by the lender.
For more on ACH Cash Advances, ACH Loans, Business Lines of Credit and other alternative financing solution for your bar or restaurant, visit our Solutions page!
Latest posts by Excel Capital (see all)