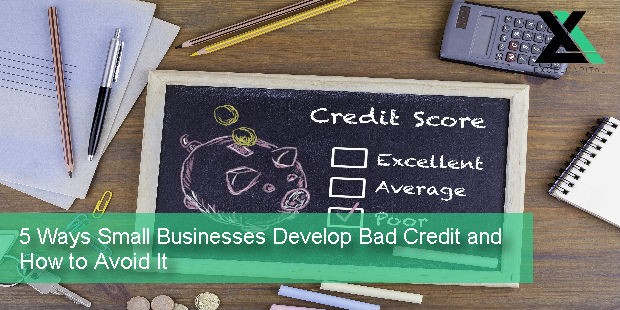 Since most of today's business relies heavily on credit, having good credit is necessary. Previously, we've discussed Simple Ways to Improve Your Business Credit Score Fast as well as how Bad Credit Is Not A Dead End for Small Businesses Funding. Here are some of the factors that can cause bad business credit.
Consistently Late Payments
Your payment history plays a big part in your business' credit score. Sometimes you may forget a bill's due date, or there may come a time when your business runs low on funds and you have to make a decision about what to sacrifice. Often times people choose to pay their credit lines late or completely forgoing payment. Consistently missing payments is the fastest way to hurt your credit score. A way to avoid this is to set up auto pay for your accounts. If you are hesitant to do that you can also create a tracking sheet with all of the bills you need to pay throughout the month and their due dates or you can set up alerts on your phone.
Poor Records/Bookkeeping
As a small business owner you are most likely preoccupied with maintaining daily operations plus a million other tasks. As a result, the task of keeping well-maintained books and records can be pushed to the side.
Lack of Credit History
Paying with cash while completely avoiding credit cards seems like it would be the best way to go. The idea is that using cash makes it so that you don't get stuck with having to pay interest. While it may seem like a good idea, it is actually detrimental. Low credit scores due to a lack of history can make you ineligible for many loans and can also result in high interest rates and short repayment periods for the ones you do qualify for. Taking out a manageable business loan can be the first step to building your credit.
Not Checking Your Credit
Just like you should check your personal credit annually, you should also get into the habit of checking your business credit report. There can be outdated or incorrect information on there that negatively impacts your score and make your business look riskier than it actually is. Be sure to correct errors and fill in any missing information.
No Relationship with Suppliers
Inventory suppliers will often offer 30, 60, or 90 day payment terms. Creating a credit relationship with your suppliers is a great way to build your credit. If you choose this option as a way to improve your credit, make sure that they report your credit history to the business credit bureaus. While having a good payment history will help your relationship with them, it wouldn't help your credit score if they don't report it.
Excel Capital Management specializes in getting small to medium businesses the working capital they need. Speak to one of our Funding Specialists to determine what -course of action is right for you and your business. For more information, call us at 877-880-8086 or visit our Products Page.
Latest posts by Excel Capital (see all)