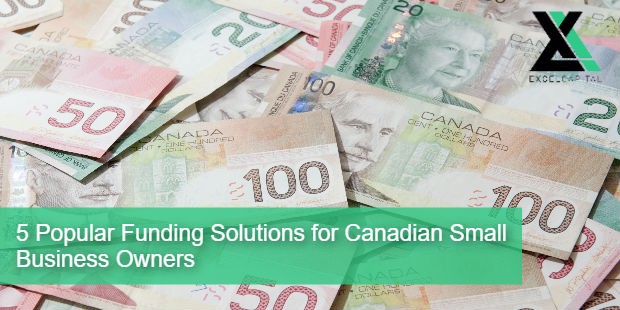 As loan approval rates from big banks and traditional lenders continue to decline, more and more Canadian business owners are finding themselves in need of working capital funding solutions fast. Luckily, alternative lenders, such as Excel Capital Management, are here to provide small business owners of all industries throughout Canada (in addition to the United States, Australia, and the United Kingdom) with the capital they need for business enhancements such as new hires, employee training, expansion, inventory purchases, equipment repairs, and much more. Here are 5 popular alternative funding solutions Canadian business owners can take advantage of!
Merchant Cash Advance:
A Merchant Cash Advance is a short-term financing transactions that are collected through a set percentage of your Visa and MasterCard sales that are accepted at your place of business. Probably the most common term used in the industry. These do not have a set repayment schedule and are based on the volume of your businesses credit card processing sales. These are usually only guaranteed by the future sales of your business.
Business Line of Credit:
A Business Line of Credit is a rotating loan that gives business owners access to a fixed amount of money, which they can use day-to-day according to their need for cash. Interest is only paid on the amount of the advance actually used.
ACH Bank Loan:
ACH Bank Loans are slightly different than Merchant Cash Advances as they are considered loans and may have personal guarantees. They have a fixed repayment schedule that is paid either daily, weekly or monthly. These products are catered to industries that do not accept credit cards and need a fixed payment.
Term Loans:
A Term Loan is backed by a bank for an exact amount that has a specified repayment timetable and interest rate that are adjusted accordingly. Terms mature between 1 and 10 years.
Equipment Financing:
Equipment Financing solutions involve any type of loan or extension of credit to a business, with the purpose of helping the business acquire new equipment. An Equipment Financing solution can take the form of a lease, SBA loan, and or not restricted to Merchant Cash Advances and ACH Loans.
Read more on how the alternative financing industry is helping Canadian business owners in our recent blog, "Providing Canadian Business Owners with the Capital They Need," and for more information on alternative funding solutions for your business, visit our Solutions page and APPLY NOW!
Latest posts by Excel Capital (see all)