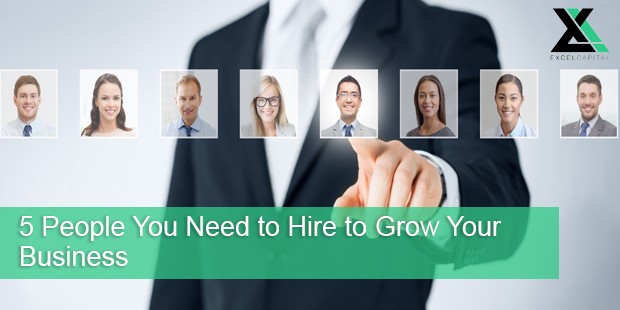 Most startups begin with a few people taking care of all of the business operations. Once you reach the point where your business is ready to grow, there are key people that you need in order to take your business to the next level. Building the right team can be the difference between failure and success. Here are five people you should hire to grow your business.
Human Resources
Think of the Human Resources department as the gatekeeper. They can be instrumental to the growth and development of your company. As your team expands you will have people who have different personalities and work styles. This will inevitably result in conflict between employees. Having human resources personnel who are trained in conflict resolution will improve employee satisfaction and retention.
Accountant/Financial Officer
Many small business owners take care of their bookkeeping and basic accounting needs using software like QuickBooks or Peachtree. However, once your business starts to expand, doing your books yourself can get a little complicated. Hiring an accountant can be pricey but it's an extra expense that is definitely worth it!
Marketing
Business marketing has changed a lot within the last decade.  A marketing professional can assist in the development your brand and create and execute your marketing plan. This person should also be in charge of your social media campaigns and updates. Social media is no longer optional and your business' presence is important for customer outreach. Having a marketing professional on your team can help you see the bigger picture and plan for the long term.
Data Analyst
It's not enough to post content and hope for the best. There are tools at your disposal that can help identify what's successful and what needs improvement. A data analyst will help make sure you reach your target audience and measure the success of your marketing campaigns.
IT/Technical Support
Sometimes restarting your computer isn't the answer. There comes a point when even the tech savviest among us need an IT professional. They will be there to set up computers for new hires, manage your networks, and keep everything running smoothly.  
Sometimes a little help is needed to take your business to the next level, and that's when Excel Capital Management will be there for you. Whether you need to hire new staff, buy or upgrade equipment, or have your employees attend industry seminars, Excel Capital Management can provide you with working capital to achieve your goals. Learn more about our funding solutions here.
Latest posts by Excel Capital (see all)