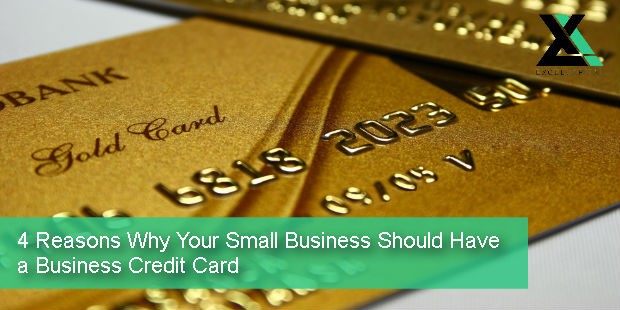 Whether your company has just surpassed the start-up stage or you have been holding out for your own reasons, using your personal credit card for business purposes is not always great practice – especially for the long-term. While you may feel it is an extra task to add on to your pile of work, obtaining a business credit card can actually save you from a lot of headaches and financial issues in the future. Let's take a closer look at four main reasons why.
Keeping Track of Business Expenses Will Be Simplified
Using your personal credit card for business purchases can become quite confusing in the long run. Let's say you treat your staff to coffee a few times a week. On Fridays, you buy the entire office lunch. Last weekend, your printer needed to be repaired. You just purchased a large inventory order yesterday. All of these things and more tied into your personal purchases will become harder and harder to keep track of as time moves on. Having a business credit card to cover all of these expenses, large and small, will save you a lot of time and will keep things organized for the long haul. Imagine all of your business purchases clear as day on one simple credit card statement rather than having to figure out which was a business expense and which was personal on your credit card statement each month. Aside from this, having all of your business purchases separated will help you to better gauge what you spend on a monthly basis for the business and if you will need a larger line of credit in the future.
You Will Build Your Business' Credit For The Future
Using a business credit card carefully and making regular payments will help you to build excellent business credit. The better your business credit is, the more doors will open for you in the future. Say, two years from now you want to open a new location, or you need to apply for a loan. Having great credit will be essential.
Cash Flow Management Will Be Easier
When it comes to managing your company's cash flow, having a business credit card will save you from a lot of grief. If you were to rely on the only revenue your business has during a slow period and your personal finances to take care of business expenses, you may find yourself in a bind. For example, maybe your business is located in an area prone to hurricanes, and unfortunately, some damage is done to your storefront. To add to the mess, you need to take care of a few existing utility bills. Both issues obviously need to be taken care of as soon as possible. Being able to effortlessly provide the business credit card to pay for these expenses upfront during slow periods, times of crisis, or simply when money is just tight will be a lifesaver – especially if your personal credit card and bank account just won't get the job done.
You'll Receive Amazing Perks
That's right! Just like your personal credit card, many business credit card companies offer great perks for using your business credit card. They could be in the form of free airfare miles, discounts on hotel stays, points for using the card to pay the company phone bill or purchasing gas for the company car, and more. These perks will be fun, little gifts to you and your staff each month, and can also save the business money in the long run.
Latest posts by Excel Capital (see all)