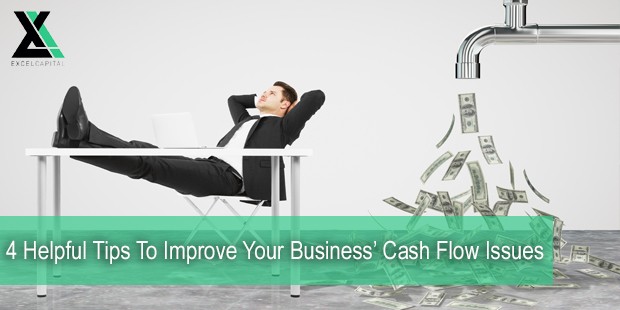 All businesses, at one point or another, will run into cash flow problems over their lifetime. In order to rectify these issues and continue your business' growth and success, there are a few best practices to follow. Here are four tips to improve your business' cash flow and continue on the road to success!

1. Prepare for the Worst and Develop Realistic Goals
Most business owners, especially those in the early stages, start out with great optimism. After-all, taking the reigns and becoming an entrepreneur brave enough to turn their idea, product, or service into a business is no easy task and requires a positive attitude. Optimism and a positive outlook are great qualities that all business owners should have, however these qualities should also be met with preparation for the worst and a little bit of skepticism. Instead of relying on good faith, it is important to do a real analysis of your business' cash flow, revenue, low points, high points, etc.. Having accurate and real numbers will help you to make good decisions for your company and gain a real understanding of how well your business is actually doing and how to move forward in the future. For example, you company may have just developed a new, hot product. Expecting a million dollars in sales during the first month of selling this new product is a great goal, however, gauging your sales from previous months and previous products and setting a more realistic goal is ideal. Any extra revenue is an added bonus!

2. Create a Budget
No matter how successful your business is or how much of a profit it is making, spending on a day-to-day basis is not the best idea. Creating a budget and spending strategy is the key to maintaining good finances and improving the overall success of your business. Whether you take a day to sit down yourself and create a daily, weekly, monthly or yearly budget or work with your accountant to develop a plan, tracking daily cash flow, analyzing past data, planning for seasonal or slow periods, and anticipating future sales is essential.

3. Open a Business Savings Account
It may seem pretty obvious, but you would be surprised how many business owners rely on their business checking account entirely. This is fine with caution, however, a major part of planning for your business' future and any unforeseen circumstances that may come up is having a savings account. Every business owner runs into problems over time. Maybe your restaurant has water damage from a recent storm and needs repairs ASAP, maybe cash isn't flowing in and you need to dig into your extra profit to take care of some business expenses, or maybe your business credit card is simply maxed out. Bottom line is that having a little extra cash in the bank for, not day-to-day expenses, but for when times are really tough could be a lifesaver!  

4. Consider Alternative Financing
Most business owners will need some sort of financing over the business' lifetime. Whether you need a small business loan to take care of some bills or purchases that require large upfront payments, or you need some additional capital for your company's expansion such as a new location, hiring new staff, or virtually anything else pertaining to the business, financing may be necessary. Traditional banks are typically the first place business owners will go to in order to obtain financing, however, the results aren't always in their favor. The lengthy application process and strict rules, guidelines, and requirements make receiving an approval a tough one, not to mention that it may take weeks! For more on that, check out our recent blog: 3 Reasons Why Business Loan Applications Get Declined By Traditional Lenders and Alternative Financing Solutions. Applying for financing through an alternative lender may be the answer to your cash flow problems. To start, alternative lenders generally only require a simple, one-page application, four months of recent business bank statements, and four months of recent credit card statements (if your business accepts credit cards) to present you with an offer in as little at 24 hours and funding in as little as 72 hours. Alternative financing is a great way to receive the working capital your business needs fast! For more information on alternative financing solutions such as the Merchant Cash Advance, Asset-Based Loans, Unsecured Business Loans, and more, click HERE!
Latest posts by Excel Capital (see all)