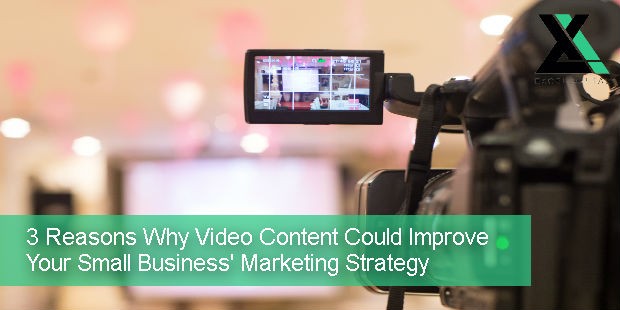 As a small business owner, you understand why it is important to stay on top of all of the latest marketing trends. Keeping up-to-date is essential when it comes to reaching potential new customers and keeping existing customers interested. In this day and age, it is important to keep up with new digital marketing trends to keep your business booming, and right now, video content is hot! Here are 4 reasons why video content could improve your small business' marketing strategy!
Attention Spans are Getting Shorter:
Let's face it, most people are always on the go with work, family, friends, activities. We like to get our information as quickly as possible! Whether researching on their laptops or smartphones, your customers must be able to learn enough about your products and services in about 60 seconds or less to decide if they want to buy. Gone are the days of reading a lengthy ad or brochure, and in comes video content. You now have the ability to grab attention in 60 seconds or less (sometimes longer depending on the goal of the video), and this is great considering most people would rather watch videos than read text anyway.
Video Content Provides an In-Depth Look at Your Business:
Think about it. Most of us wouldn't buy a house without seeing the inside, or on a smaller scaler, a lot of us wouldn't buy new shoes without trying them on first. We can relate those analogies to video marketing. Consumers need to know details about your products, services, and business overall before buying. Sure, they can read up on your company online, but providing them will visual content so they can see just who you and your business are could greatly sway their decision in the direction to buy. Use video content to show potential customers the benefits of shopping at your business and showcase your brand identity. While providing entertainment, you are also providing potential consumers with the information they need on your company. Additionally, video content tends to rank very high in search engines, so your business will be easier for customers to find and research among your competition.
Videos Help To Build Customer Relationships and Showcase Personality:
Whether you'd like to be in front of the camera or behind-the-scenes, the beauty of video content marketing is that yours and your business' personality will shine through! Video allows you to connect with your target audience on a deeper level than through ads and text. The music, spokesperson, editing, and look and feel of your video content will help to establish your brand and keep customers coming back for more!
At Excel Capital Management, we have small business owners' best interests at heart. We also understand that marketing efforts, especially video content, can be pricey. Whether you are working with a third-party video production team, or creating content in-house, the cost of labor, equipment, editing, and promotion can be high. We are here to provide you with the working capital you may need! APPLY NOW!
Latest posts by Excel Capital (see all)