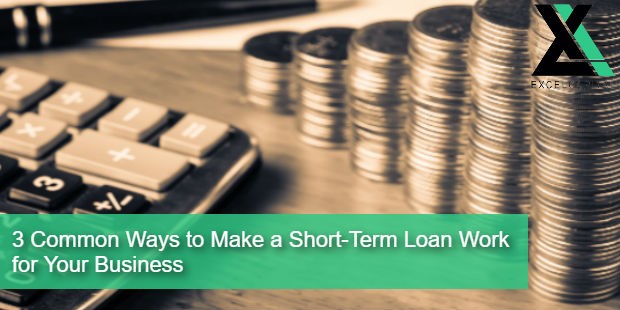 As you know, all small business owners run into a period over their business' life cycle where they need some additional working capital. Many times, a little extra capital is only needed to fix short-term problems and get you over the hump. Is your business experiencing a slow period or bit of an emergency? Here are three common ways many business owners make short-term business loans work for them!
Fix Short-Term Cash Flow Issues:
Whether it's that time of the year when business slows down for you, you see company faced with local competition, or you're just not generating the revenue you need to get through the slow period, applying for a short-term business loan to take care of cash flow issues fast is a great solution. Once you acquire the capital you need, you can quickly take care of business expenses, pump capital into marketing and advertising campaigns to attract new customers, or use it to develop new products and services. A short-term business loan may be just the solution you need to get back on track!
Repair and Update Equipment & Supplies:
At one time or another, all business owners find themselves in a bind due to unforeseen equipment breakdowns. Maybe the company car needs a fast repair that you just can't cover, or a system-wide computer virus puts your company out of operation for a few days. Having access to short-term working capital may be essential to bounce back from the unforeseen disasters and emergencies that are sure to occur at one point or another. Use it to repair and update existing equipment or to even purchase new equipment and supplies.
Purchase Necessary Inventory:
Sometimes a great deal on inventory is just too hard to pass up, but unfortunately, without the capital needed, purchasing inventory in bulk at a discount is impossible. A short-term business loan, especially one that business owners can acquire in a matter of days (sometimes even hours), is the answer to many business owners' inventory purchasing problems. Don't miss out on a great deal! Use a short-term business loan to buy the inventory your business needs fast!
Excel Capital Management is here to provide you with all of your business capital needs! Take a look at our Solutions page to see what kind of funding solutions we offer and APPLY NOW!
Latest posts by Excel Capital (see all)