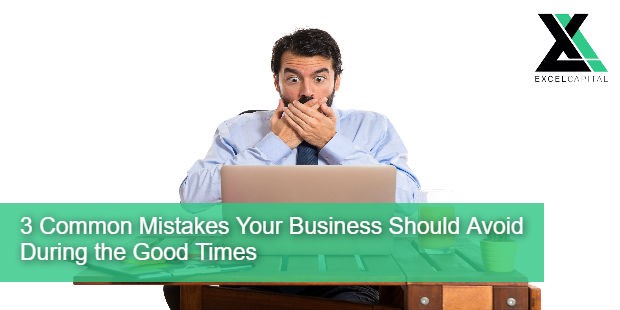 When your business is doing well, it is expected that you and your staff revel in the success… and money! As a business owner, seeing your vision come to life is exciting, and motivating, however, the successful periods are when it is easiest to make financial mistakes. Here are 3 common and avoidable mistakes many business owners make during the good times.
Failing To Save:
The most common mistake business owners make during successful business times is failing to save for the future. Cash flow may be good for now, but slow periods are inevitable, and having the funds to cover expenses and unforeseen circumstances during those periods is crucial. When you see your business making a large profit, be sure to save a little for rainy day.
Compulsive Spending:
Usually, when you are not saving, you are spending. One of the easiest ways to dig yourself and your business into a whole is through compulsive spending. Sure, there are luxurious items that may help to improve your business, but it is important that you really sit down and think about what your business needs before purchasing. That 65'' flat screen television looks great, but is it a necessity for your business' waiting area? The brand new luxury car is gorgeous, but is it really fitting for the company car? Be sure to have your priorities and bank account in check before spending. Similarly, spending business funds on personal items is never a good idea.
Expanding Too Quickly:
When your business is bursting at the seems with customers and generative large amounts of revenue, you may have the urge to expand and cash-in on this amazing growth period. This is a great idea, however, it is a good idea to sit down, review your financial statements, and consult a financial advisor if necessary to decide if expanding is a feasible idea. Opening one or more additional locations is more expensive and time consuming than it seems. Expanding can happen in the long run, however, it is important to ensure that your original location can keep up before opening any more.
As you know. at Excel Capital Management, we understand that all business owners run into tough periods and make money management mistakes over time. At times, additional working capital may be needed to rectify these mistakes. We are here to help – check out our Solutions page to find out if one of our funding options is right for your business!
Latest posts by Excel Capital (see all)